New pipeline to cut water taken from River Kennet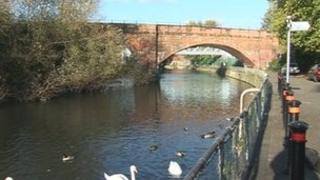 A new water pipeline is set to supply part of Berkshire and reduce the amount of water taken from the River Kennet.
Thames Water has announced plans for a new 19km (12 mile) pipe to carry water both ways between Reading and Thatcham.
The company said the project would help protect "rare and treasured wildlife" including watervoles by maintaining river levels.
Work on the £10m project is planned to start in January and will take about 18 months.
The company said the pipe between Fobney water treatment works and Cold Ash storage reservoir would by-pass Speen water treatment works, reducing the amount it takes from the River Kennet by around 4.5 million litres litres per day.
The Speen facility currently serves 35,000 people in Newbury with water abstracted from bore holes and from the river.
Craig Rance of Thames Water said: "It will allow us to provide a more resilient water supply and move water around our network."
Charlotte Hitchmough of Action for the River Kennet said she was "delighted" by the scheme.
"It will benefit the Kennet by reducing the detrimental impact of water abstraction at Speen," she said.
She called for further work to reduce the impact of water taken further along the river at Axford in Wiltshire.