West Berkshire Council calls for stronger rat poison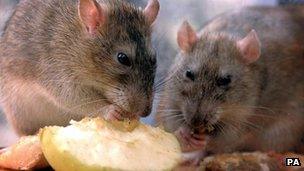 A Berkshire council is leading calls to use stronger poisons to deal with mutating rats.
Catchers say recent flooding across the county has made the challenge of controlling the rat population harder.
West Berkshire Council is lobbying the Health and Safety Executive (HSE) for permission to use stronger poisons against so-called "super rats".
Currently such poisons can only be used indoors to avoid harming animals like red kites and barn owls.
Stronger poisons can be used outdoors in areas with a proven rat problem and by people who are fully qualified and trained to use them.
Graham Chappell, from Rapid Pest Control in Newbury is contracted by West Berkshire Council.
He said: "It's becoming more of an issue now simply because of the number of rats that are being seen. They've also mutated genetically and are bred to be immune to standard poisons.
"We have to start using different methods such as trapping and gassing, which can be less effective and more costly."
The HSE also imposes strict conditions on the use of stronger rodenticides, including proving the rats are already resistant.
Where scavenging birds can be found, catchers need to demonstrate deaths of any individual birds will not damage the local population.
Monitoring systems also need implementing to prove the poison is reducing the rat population while not affecting other species.
Alan Buckle, from the University of Reading, heads the Rodenticide Resistance Action Group.
He said: "Studies show a large part of southern England has rats who have mutated to resist standard poisons.
"Pest controllers are having problems and more potent poisons need to be used carefully and responsibly."
Related Internet Links
The BBC is not responsible for the content of external sites.