Broadmoor Hospital's 150th anniversary revamp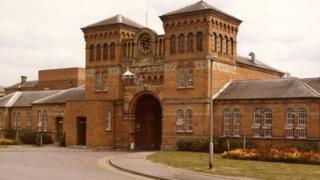 Some of the country's most notorious killers and sex offenders have been treated within its walls and the institution has been described as "shrouded in mystery".
But the NHS trust which manages Broadmoor Hospital is hoping to update its perceptions as well as the building with a £285m revamp in 2013, which also marks its 150th anniversary.
So what changes are proposed at the site in Crowthorne, Berkshire, and how have the hospital's patients and the care it provides changed since 1863.
In that year it opened as the first criminal lunatic asylum for England and Wales.
A new 16-ward, 234-bed unit will open to patients in early 2017 and some Victorian buildings on the 130-acre (52.6 hectare) estate, deemed unfit for purpose in 2003, will be demolished.
However, many "core aspects" of the site, such as its Grade I listed gatehouse, will remain, according to the West London Mental Health NHS Trust.
'Shrouded in mystery'
"Many people think of the gatehouse when they think of Broadmoor - it's a very imposing structure," said Mark Stevens, senior archivist at Berkshire Record Office.
"Like many other parts of the building it is a beautiful piece of asylum architecture."
Fintan Larkin, consultant forensic psychiatrist at Broadmoor, said: "The old building is very nice, but not suitable for the kind of care we're providing."
The new rooms will each include a toilet and shower and there will also be a new therapy building, which will include shops for patients and visiting suites.
"This is not five-star accommodation, it simply gives patients basic privacy and independence which aids recovery," said Vivienne Mowatt, a senior manager of the redevelopment programme.
"They are patients and are not here for punishment."
Broadmoor became a hospital in 1948 and is one of only three high security mental health hospitals in the country.
"It's shrouded in mystery and many people mistakenly refer to it as a prison," said Mr Stevens, who has written a book about the hospital.
"We've probably all got an idea about Broadmoor and it's most probably wrong."
Broadmoor's first patients were women and some might have found themselves there simply for being unmarried mothers, according to Mr Stevens.
"There was very little in the way of intervention in Victorian times - sometimes spirits such as brandy or whiskey were used as tonics, and occasionally sedatives were prescribed," he said.
Kevin Murray, clinical director at the hospital, said: "When Broadmoor was an asylum patients were put in accommodation and simply left there.
"Over the last 150 years there has been an enormous growth in understanding mental illness."
He said brain scanning techniques and medication had advanced, and treatments based on a patient's genetic make-up were being tested.
In the 1960s there were about 1,000 patients at Broadmoor, which has been an all-male unit since 2006.
It now has about 200 patients, including Yorkshire Ripper Peter Sutcliffe.
The average stay for a patient is about six years, although most stay for about two years before moving on to a medium secure unit for further treatment.
The hospital's patients are predominantly mentally ill or have a personality disorder, and the majority will have offended, the trust said.
"They are there because they pose a risk to themselves or to others," said Mr Larkin.
Mr Stevens said Broadmoor "evokes fear" because "people are frightened of what they don't understand".
In 1952, Broadmoor patient John Straffon escaped for 24 hours and killed a young girl.
"Negative media perceptions of the hospital date back to this time," said Mr Stevens.
"It is the only time in the hospital's entire history that this has happened."
Between 1863 and 1870, a number of patients tried to escape from Broadmoor. Some succeeded.
Mr Stevens said one of the most notable was that of Richard Walker who tried to escape three times in 1865.
On his second attempt he escaped through a window before riding off on one of the asylum's horses.
"He attracted a lot of attention though and soon found himself back inside because he had forgotten to get dressed properly and was naked from the waist down," Mr Stevens said.
The last escape from Broadmoor was in 1993, but the trust would not divulge any details.
Mark Wiseman, 43, has lived on the same road as Broadmoor for five years.
He said his family and friends asked him if he was worried when he first moved in.
"Everyone's curious about the hospital, but I'm not worried at all and have never felt threatened," he said.
Crowthorne resident Damian Howard, 46, admitted he thought Broadmoor was a prison when he first moved to the area three months ago.
"It certainly didn't put me off moving here," he said. "But it is quite interesting when the test sirens sound every Monday morning at 10 o'clock."