Lambourn Valley sewage flooding meeting called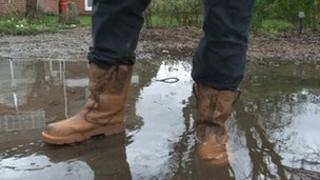 Residents in west Berkshire will get the chance to ask questions on recent flooding at a public meeting later.
Properties in the Lambourn Valley were affected by raw sewage flooding as the drainage network struggled to cope over Christmas.
Newbury MP Richard Benyon will chair the meeting alongside representatives from West Berkshire Council, the Environment Agency and Thames Water.
Mr Benyon believes residents need to be kept aware of the current situation.
He said: "There's a threat that recent flooding might continue.
"There's currently high groundwater levels with sodden fields and valley bottoms leaving hardly anywhere for the water to flow.
"We've got to make sure people are best informed as to what can be done, what has been done and what will be done as well as giving them the opportunity to quiz the various agencies."
The meeting takes place at Lambourn Memorial Hall from 18:30 GMT.