Berkshire health services consultation 'needs extension'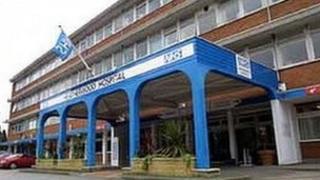 A council wants a public consultation into the future of health services to be extended after NHS information leaflets failed to be delivered.
More than 300 homes in Ascot missed out on a leaflet drop in November following a mistake by Royal Mail.
NHS Berkshire has put forward three proposals on the future of services at Ascot's Heatherwood Hospital with the consultation set to end on 31 January.
Windsor and Maidenhead Borough Council feels Ascot residents need more time.
Councillor Sayonara Luxton, chairman of the health overview and scrutiny committee, believes an extended consultation would ensure transparency and fairness.
No extension plans
She said: "An extension with another public meeting would ensure those who have missed out are given another chance to have their say.
"Some residents have contacted me to say they've tried to get to public meetings, but have been told they were already fully booked.
"If the trust has nothing to hide, then there's no harm in extending the consultation by another two weeks."
Martin Leaver, from Berkshire NHS, said: "Currently, there is no plan to extend the consultation.
"It has been running for three-and-a-half months and four out of seven of our public meetings have been held in either Ascot or nearby Bracknell.
"By the end of the consultation, more than 350 people would have attended them and they are not the only way in which people can have their say."
Under the consultation recommendations, minor injuries services would move from Heatherwood to an urgent care centre in Brants Bridge in Bracknell.
It also recommends closing the hospital's Ascot Birth Centre and improving rehabilitation services for both stroke and general medical patients.
The consultation findings will be reported to a joint Primary Care Trust board in March.