Berkshire snow: Disruption across county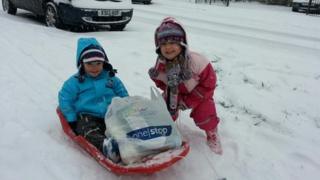 More than 100 schools have closed across Berkshire as heavy snow continues to fall.
A Met Office Amber weather warning issued earlier has predicted between five and 10cm of snow to fall during Friday.
Fire and rescue services are warning driving conditions are hazardous.
A revised timetable is operating on South West Trains while First Great Western services are experiencing minor delays out of London Paddington.
Conditions have also led to flights being cancelled from airports.
Stephen Mottau and Karen Stedman from Winnersh were due to fly to Munich from Heathrow later for a skiing weekend in Austria.
Ms Stedman said: "We got a call mid-morning to tell us our flight had been cancelled. We were due to fly at 16:15 GMT.
"We're trying to see if we can rearrange our tickets for tomorrow, but it's a real shame to be missing out."
'Slip and slide'
The west of Berkshire has experienced the heaviest flurries.
BBC Radio Berkshire's Matt Treacy in Hungerford has witnessed around 10cm (4ins) of snow fall around the town since first light.
He said: "Driving conditions are very difficult, especially on the hills around the town off A-roads.
"I've been watching a small lorry slip and slide as it struggled to climb A338 Salisbury Road south of Hungerford.
"I've also seen drivers fixing snow chains to their vehicles."
Carolyn Richardson, emergency planning officer at West Berkshire Council, said: "Plans are in place and teams are pulled together to co-ordinate our response.
"As well as ensuring roads are safe and accessible, we're also looking after people in their homes, making sure our carers can get through and assisting schools to allow them to stay open."
At Chieveley Services on the M4 motorway, many people have been stopping to break up their journeys.
The M4 is down to two lanes westbound from Junction 12 for Reading.
The enhanced content on this page requires Javascript and Flash Player 9
Map Key
Land
Cloud
Lakes, Rivers & Sea
Fog
Light
Heavy
Frost
Light
Heavy
Pressure Fronts
Cold
Warm
Occluded
Rain
Light
Heavy
Extreme
Snow
Light
Heavy
Temperature tab only
Temperature (°C)
More details from BBC Weather