Berkshire snow: Met Office issues yellow ice alert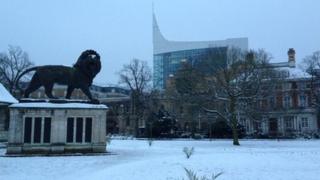 A Met Office yellow warning for ice remains in place across Berkshire following a night of freezing temperatures.
The warning means people should be aware of the conditions but the county is expected to escape heavy snowfall during Monday.
The region's ambulance service said the number of weekend emergency calls increased by 500 on the previous week.
More than 30 schools across the county remained closed after the weekend.
The Met Office forecast is for a dry and largely cloudy day, with widespread ice on untreated surfaces and the possibility of a light snow shower later.
South West Trains is again running a revised service with no trains on the Ascot to Ash Vale line.
The company said ice can form on the power line which could cause trains to stop.
It said extra trains would be added during the day if possible.
First Great Western services are running to time.
The enhanced content on this page requires Javascript and Flash Player 9
Map Key
Land
Cloud
Lakes, Rivers & Sea
Fog
Light
Heavy
Frost
Light
Heavy
Pressure Fronts
Cold
Warm
Occluded
Rain
Light
Heavy
Extreme
Snow
Light
Heavy
Temperature tab only
Temperature (°C)
More details from BBC Weather