Berkshire marks 70th anniversary of 1943 WWII bombings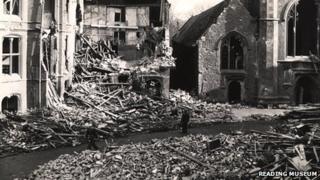 Berkshire has marked the 70th anniversary of World War II bombings in Reading and Newbury.
On 10 February 1943, 56 people died and 191 were injured when German planes dropped bombs on the two towns in daylight raids.
Short services of remembrance were held in both towns attended by veterans and relatives of those who died.
New memorials were also unveiled in the towns to serve as permanent tributes to those who lost their lives.
'Fitting tribute'
Brian Lewendon, from Tilehurst British Legion, started a petition last year for a new tribute on the site of the Reading bombing.
He said: "People who will remember the events of that day will be well into their 70s today.
"Personally, I don't remember that much as my parents kept a lot of what was happening during the war from me.
"But, when I saw lots of towns and cities around the country putting together their own memorials to mark the 70th anniversary of the Blitz in 2010, I wanted to ensure Reading was doing the same."
At St John's Memorial Gardens in Newbury, local historian David Clow has helped create a new memorial and information board to honour the 15 people who died in the bombing.
He said: "It was a major event historically for Newbury.
"Not only is it a fitting tribute to those who lost their lives, but there are people living here who weren't even aware there had been any bombing in the town."
An exhibition of photographs and artefacts from the Reading bombing is being held at the town's museum until 3 March.