Broadmoor Hospital to get new access road ahead of revamp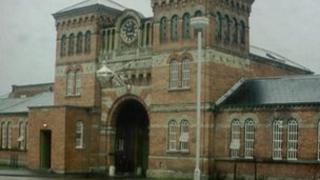 A new access road is to be created to Broadmoor Hospital ahead of its £285m revamp.
A new 16-ward, 234-bed unit is expected to open to patients at the site in Crowthorne in early 2017.
Some of the hospital's 150-year-old buildings, which were deemed unfit for purpose in 2003, will be demolished.
Preparation work for the new route from the A3095 is expected to start on 18 February with the main road works beginning in the spring for 26 weeks.
West London Mental Health NHS Trust said it was "keen to minimise disruption to Crowthorne residents".
It said the road would first be used to divert construction traffic away from the village during the regeneration of the hospital.
The proposals for the Victorian buildings on the 130 acre (53 hectare) estate were approved in July.
A new therapy building will be created, which will house shops for patients, education and vocational services and visiting suites, the trust said.
Broadmoor opened in 1863 as England's first asylum for the criminally insane.
Some of the country's most notorious killers and sex offenders have been treated within the hospital.