Reading's Friar Street reopens after bones delay repairs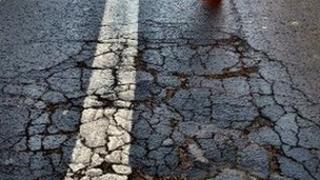 A road in Reading has reopened after repairs were delayed by the discovery of medieval remains - and the weather.
Work on Friar Street should have ended last week, but the road surface could not be laid due to the cold.
The project was also affected by the discovery of animal remains and soles of shoes from the 12th Century.
Reading Borough Council had thought winter weather caused the cracks in the road, but a collapsed Victorian clay sewer pipe was actually to blame.
The pipe was found 1.5m (5ft) under the ground.
Large cracks began appearing in Friar Street a month ago.