Delay warning over Reading station footbridge closure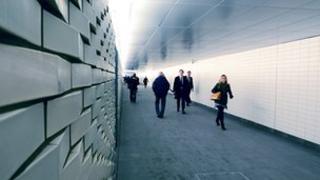 Train travellers at Reading have been warned to expect delays as works to the railway station close a footbridge.
Pedestrians are being detoured via a subway which Network Rail say could add 15 minutes to their walking time.
The bridge which links Reading train station and a multi-storey car park is being demolished to enable new platforms below it to be built.
A new footbridge is expected to open in April.
Network Rail apologised for any inconvenience caused.
'Inconvenience'
Graham Denny, project manager at Network Rail, said: "For four weeks, people will be able to use a temporary walking route via the new subway.
"We have to do this because the current bridge sits in the way of new platforms which have to be finished by April, so it has to be removed.
"We realise this will be an inconvenience to passengers and are sorry for this; if there was another way of completing the new platforms we would do it".
The refurbished subway has a new lighting and digital CCTV system linked to the station and police.
Works on the upgrade stated in Spring 2011 and Network Rail said they are on course to be completed one year ahead of schedule in 2015.
The Reading improvement scheme also includes the construction of a new train care depot and a viaduct to provide more room for trains.
Overhead line equipment will also allow new state-of-the-art electric trains to run.