Berezovsky 'an inspiration' to grieving daughter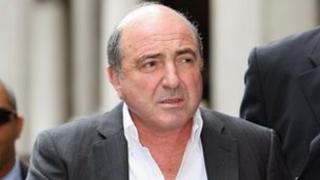 The daughter of Russian tycoon Boris Berezovsky who was found dead at his Berkshire home has described him as "an inspiration."
An employee found the 67-year-old lying on the bathroom floor with a ligature around his neck at his Ascot home in Mill Lane on 23 March.
An inquest heard the cause of his death was "consistent with hanging."
Daughter Arina spoke of her admiration for her father, who she described as having "a joy for life."
'Turbulent rollercoaster'
In a statement she said: "I didn't know my dad very well but what I am sure of is that he really loved his family and that he was always happy around his children and grandchildren.
"His life was a turbulent rollercoaster with never-ending ordeals, and I admire the way in which he handled them with utter grace, control and most commendably honesty.
"Unfortunately, honesty does not 'cut it' in this corrupt world and is often mistaken for being manipulative; which my dad was not.
"He had a certain joy for life, which was beautifully refreshing, and never took anything he had for granted.
"His all-consuming determination for justice will be an inspiration to me for the rest of my life and I aspire to one day have half the courage he did when standing up for his beliefs; even if he had to stand alone.
"My hopes for him now are that he is at peace and that he is happy."
Mr Berezovksy had four children - Arina and Gleb with first wife Nina and Anastasia and Artem with Galina Besharova.
In a statement released last week daughter Anastasia told of her father's "determination and excitement for every aspect of life."
The tycoon amassed a fortune in the 1990s following the privatisation of state assets after the collapse of Soviet communism.
Divorce settlement
But his fortune is thought to have considerably diminished in recent years, leaving him struggling to pay debts in the wake of costly court cases.
Miss Besharova, 53, reached a divorce settlement with Mr Berezovsky of more than £100m in 2011.
And last year he lost a £3bn ($4.7bn) damages claim against Chelsea Football Club owner Roman Abramovich.
Mr Berezovsky survived numerous assassination attempts, including a bomb that decapitated his chauffeur.
He emigrated to the UK in 2000 and was granted political asylum in 2003 on the grounds that his life would be in danger in Russia.
Following his death, specialist officers in chemical, biological, radiological and nuclear substances examined his country mansion before declaring it safe.
Officers said they are speaking to his close friends and family to build up a picture of his state of mind in the last days of his life.