Reading station work leads to 25 extra train cancellations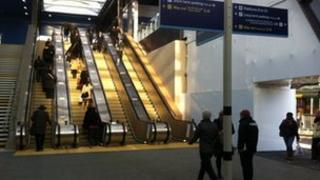 First Great Western (FGW) has cancelled 25 trains a day through Reading because of an "over-optimistic" timetable during a station upgrade, it said.
The cancellations will last until 8 April and come on top of an already reduced timetable.
The station was closed over the weekend during the £895m upgrade and there were delays when it reopened on Tuesday.
FGW said the service reduction would provide a more "reliable service for the vast majority of customers".
Four new platforms, two entrances and a new link bridge opened on 2 April but the limited platform capacity at the station caused unexpected delays to services.
FGW spokesman Dan Panes said they had "worked hard with Network Rail to minimise the delays".
"But it quickly became clear that the number of trains we were trying to operate through the area was affecting our ability to get our services back on track," he added.
The 25 cancellations include services to Oxford and London. Mr Panes said FGW may "possibly make further tweaks to the timetable but key services will be maintained".
About 12 months of further works are planned including demolishing the old link bridge and replacing old canopies and platforms.