'Lost' Sir Stanley Spencer painting auctioned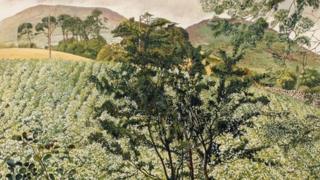 A painting by Sir Stanley Spencer that was "lost" for 60 years has failed to sell at auction.
Potato Patch, Rostrevor, was expected to fetch up to £400,000 under the hammer on Thursday.
A spokesman from Duke's in Dorchester said it had begun negotiations with a potential buyer following the auction.
The painting was originally bought by a Dorset couple for £170 in 1952. It was painted while Spencer visited friends in Rostrevor, County Down.
Duke's in Dorchester said the painting could still meet its "lower estimate".
It has been valued at between £200,000 and £400,000.
'Too valuable'
Spencer, who lived from 1891 to 1959, largely painted scenes from his home village of Cookham, Berkshire, but after World War II made a number of journeys to the Rostrevor area.
According to Duke's, there are "a number of wealthy private collectors who are expected to compete for this work".
Auctioneer Matthew Denny said Spencer collectors and experts would be "delighted" the painting has "come out of the woodwork".
He said the owners had "read press reports that major works by Spencer were now selling for up to £5m and decided it was too valuable to keep hanging on the wall of their flat".
He added: "If the original buyers have it on their wall then the rest of the art world doesn't know where it is.
"It's not lost in as much as you know where it is, but all the Stanley Spencer experts - they don't know where it is."
Another painting by Spencer, Sunflower and Dog Worship, fetched £5.4m at Sotheby's in London in 2011.