Campaign to save 1930s Reading bus shelter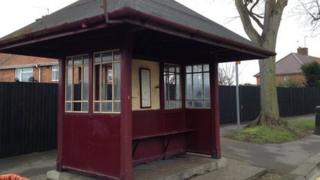 Campaigners have begun a petition to protect an 80-year-old bus shelter in Reading.
They fear the 1930s bus shelter in Caversham could be demolished and replaced by a modern shelter under a council review.
The council says the shelter is unsuitable for disabled travellers and is in a poor condition.
Local councillor Andrew Cumpsty said removing it would be "throwing away another piece of Reading's history".
It is thought the shelter on Henley Road was moved from a location on a coastal promenade in the 1930s.
It still has the old Reading Transport colours of crimson and cream and is made of brick, wood and glass panels, some of which have been broken by vandals.
Mr Cumpsty, a Conservative, described the shelter as looking "unloved" and said it would cost "a few hundred pounds to restore", compared to the thousands of pounds it would take to replace.
The campaign, run by Mr Cumpsty and residents, comes after calls to save a historic lido in the town's Kings Meadow and a failed council bid for funding to preserve the 12th Century Reading Abbey ruins, which has been closed to the public since 2009.
A statement issued by Labour-run Reading Borough Council said: "A detailed report is scheduled to go to a meeting of the Council's Traffic Management Advisory Panel (TMAP) in June which will include a review of all bus shelters across the town that are owned by the council and that report will be considered by the panel in the usual way."
It added the shelter was not a listed structure.