Ascot Racecourse hosts Ascot Life Church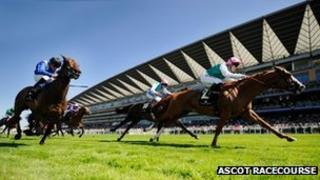 Ascot Racecourse has hosted a church service for the first time.
Ascot Life Church's 150-strong congregation has outgrown Ascot Baptist Church on New Road for its Sunday morning services.
Its first meeting was held at in the Paddocks Building at the racecourse earlier and was hailed a success.
The racecourse, which already hosts a nursery school, said it was "delighted" to welcome the group, which plans to use the venue for at least a year.
Dave Rogers, church elder, said: "The racecourse is a unique setting for a church and it will allow us to live life at the heart of our community, serving those around us in a venue that gives us space to welcome more people."
The church will continue to host weekday community activities, including Bible study groups, and a Sunday evening service at New Road.