Row over Maiden Erlegh Lake sewage leak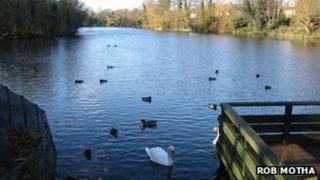 A broken sewage pipe that leaked its contents into a fishing lake has not been fixed 10 weeks after the problem was reported, a town council claimed.
Sewage leaked from a section of pipe embedded in the bank at Maiden Erlegh Lake, Berkshire on 6 February.
Earley Town Council said Thames Water had scheduled the repair for 18 February, but no work had taken place.
Thames Water said it intended to do the work earlier but it had become "more complicated than was first thought".
Councillor Michael Firmager said: "It doesn't fill you full of confidence, and we are a customer of Thames Water.
"I'm hoping I will be surprised and they will do it as soon as possible.
"If they don't then we shall be looking at legal action, but that's a road we don't want to go down."
Thames Water had initially looked at draining the lake to make the repair but this was ruled out as the fish are in spawning season.
Natalie Slater from the company said: "The sewer is embedded in the crown of a bank of earth that retains the fishing lake.
"Before our contractors can go ahead with digging up and replacing the broken section of pipe, we must get experts to survey the bank to ensure the repair can be done safely.
"We will do the job as soon as we can. We can confirm that there is currently no pollution to the lake."