Reading councillor calls for Crossrail extension into the town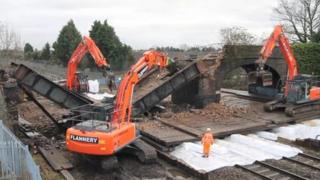 A call to extend Crossrail into Reading has been made to the Secretary of State for Transport Patrick McLoughlin.
Reading council's letter made a case to extend the £16bn rail link that under current plans terminates at Maidenhead.
Council transport Labour leader Tony Page said Reading was a major employment centre and destination that needed the additional rail capacity.
Tory Reading East MP Rob Wilson said he was "far from convinced" there would be a big net benefit to Reading.
Crossrail will provide a key east-west route across London and the South East.
Councillor Page wrote in his letter to Mr McLoughlin that the proposed Crossrail to Maidenhead service of two trains per hour between Reading, Twyford and Maidenhead was "not considered adequate" for Reading.
He added that Reading Station's current £250m redevelopment already included "passive provision" for Crossrail and that there would be "cost savings by not installing unneeded infrastructure at Maidenhead."
Mr Wilson said he was open-minded about the request but that he was "slightly struggling to see the benefit to Reading of a slow metro service to east London."
"It is highly likely commuters would still take the fast train and tube as it would be quicker," he said.
He added: "I accept there are capacity issues, but I am not sure slow trains to east London is the best and financially efficient way to solve it."