Mastectomy mother Heidi Kilgariff launches pillow campaign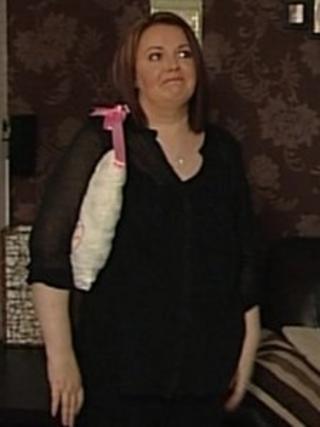 A Berkshire mother who opted to have a double mastectomy has launched a campaign to give women undergoing the surgery heart-shaped support cushions.
Heidi Kilgariff, 35, from Bracknell, had the operation because she has the same mutated BRCA1 gene as Hollywood star Angelina Jolie.
She says resting with the cushions under her arms helped ease the pain and give support after surgery.
Ms Kilgariff has now signed up dozens of volunteers to make more cushions.
They are being delivered to women across the UK about to undergo surgery and come with a hand-written inspirational message.
Ms Kilgariff delivers the cushions to her to her local hospital, Frimley Park Hospital in Surrey.
Other volunteers have joined her campaign and deliver to other hospitals in the country.
She said: "It's got a very deep V that goes under your arm.
"It just takes the pressure off the wound and just gives that extra comfort underneath."
Young children
The original design for the cushion came from a nurse in Denmark.
Ms Kilgariff said they were very simple and easy to make: "On the sewing machine it probably takes someone five minutes to run one of those up.
"There's people doing sewing lessons for us, sewing groups are doing them, children's groups are doing them, churches, it's just gone mad."
Dr Hannah Bridges, senior information officer at the Breakthrough Breast Cancer charity, said: "The fact that people will dedicate their own time to make these pillows, just to show someone they understand what they are going through at this difficult period when they are having this surgery, is a lovely thing to do.
"With the cushions the idea is that they make people feel more comfortable, it depends on how they want to use them though.
"I know with Heidi, she finds it useful to have it between her breast and the seatbelt just to make that a little bit softer.
"Women will find different ways to use them and I think it's important that they discuss that with their breast care team to find out what's appropriate for the type of surgery they've had."
The BRCA1 gene is present in everyone but only mutates in one in 1,000 people. Anyone with the mutation has a 50-80% chance of developing breast cancer.
Ms Kilgariff decided to have both both breasts removed after discovering she had the faulty gene.
"I didn't find it a very difficult decision because I've got two very small children and I want to be a mum, I want to be around to see them grow up."
Ms Kilgariff is also planning to have her ovaries removed to prevent ovarian cancer.