Reading Rowing Club concerned over car parking charges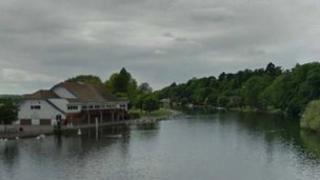 Reading Rowing Club says it faces being put out of business by plans to introduce charges at a nearby car park.
Users of the club, near Caversham Bridge, benefit from free parking at Thames Side Promenade car park.
Members, visiting rowers, coaches and supporters regularly use the car park throughout the year.
Club captain Mike Linehan claims the charges will cost rowers hundreds of pounds a year. A public consultation runs until 12 June.
Under the council's proposals, parking would be free for up to an hour between 09:00 and 17:00 Monday to Friday, but would cost £2.50 for up to five hours.
The same charges would apply between 10:00 and 15:00 at weekends.
'Regular turnover'
Mr Linehan said: "Most rowing at the club is done at weekends and the proposed charges will cover most people's training and competition times.
"We've suggested to the council an idea of a minimal charge on weekdays with free parking at the weekend. We're a little shocked the consultation now includes plans for weekend charges.
"That will have a significant impact on the club and we are concerned it will stifle participation in the sport."
Councillor Tony Page stressed the proposals are open to change during the consultation period.
He said: "I'm sympathetic to the club's argument about charging at weekends.
"This is a management exercise rather than a revenue-making one to ensure the car park is available to bona-fide and legitimate users of the river and the promenade.
"There's a need to ensure a regular turnover of visitors.
"I fully recognise the club's concerns and as a council, we recognise them as an important asset and one we want to work with going forward."