Royal Berkshire Hospital in Reading overpays by £18m on new system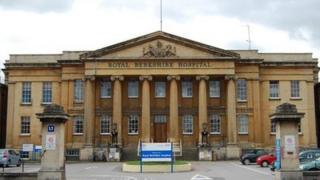 An NHS hospital trust has spent £18m more than it needed to on a new electronic patient records system.
Reading's Royal Berkshire Hospital paid £28m for the technology but the BBC has learnt auditors valued it at £10m.
Hospital chief executive Ed Donald said he was disappointed but the hospital had budgeted for the amount.
Staff and patients have complained the Millennium system crashes but its developer Cerner said it provided "world-class care for patients".
'Lots of frustrations'
Royal Berkshire Hospital spent three years moving patient records to the electronic system as part of a Department of Health drive for a paperless NHS by 2018.
It went live with Millennium in June 2012 and using the system staff can find and update records on electronic tablets as they move around wards.
But the BBC has learnt auditors told the hospital Millennium was worth £18m less than it paid.
Chair of South Reading Patient Voice Carol Munt said the £18m could have been spent on "additional patient facilities, upgrading some of the buildings, new equipment - it's an endless list and for it to be wasted in this way is a tragic shame".
The technology has also had glitches including system crashes and loss of patient appointments, which Cerner is working on to fix.
Mr Donald said such large-scale projects "throw up lots of issues and there have been lots of frustrations along the way both for patients and staff".
He added: "We were over-ambitious in terms of the scale and pace with which we wanted to roll out the system but we've learned from that."
System developers Cerner said the technology, "when successfully implemented", gave "doctors and nurses real-time access to high-quality clinical information which is critical in the delivery of world-class care for patients".