£500,000 pothole plan for Reading approved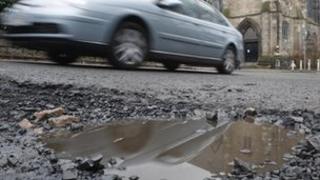 A £500,000 council project to tackle potholes in Reading has been approved.
It comes after the people seeking compensation for pothole damage in Berkshire rose six-fold in 2012/2013 compared with 2011/2012.
The project will take about a year and will see two extra highway teams brought in to allow current workers to focus solely on pothole repairs.
The council said its normal policy was "not coping with the increased maintenance demands".
A BBC Freedom of Information request has shown 505 pothole claims were made to the six borough councils in Berkshire in 2012/2013, compared to 85 the previous year.
Only nine of the claims led to financial compensation.
West Berkshire Council had the highest amount of claims with 319 in 2012/2013 but did not settle any of them.
Slough Borough Council settled the most in 2012/2013, paying £3,600 for three claims.
Reading Borough Council had 46 claims in 2012/2013 and settled two of them for £787.
In March, the Reading Half Marathon race director highlighted safety concerns after finding the highest number of potholes in the event's history along the route.
At a meeting on Monday, councillors voted to increase spending on repairs to £500,000 for 2013/14.
Its current teams will be switched to solely repairing potholes of any depth, not just those that currently fall within the council's current intervention level of 50mm (2in).
While the two new highway teams will concentrate on contract work in order to generate income.
Councillor Tony Page, member for transport, said: "This is a first for any unitary authority in the country and recognises the scale of legitimate public concern, and, quite literally, the depth of the problem."