Holmanleaze mosque in Maidenhead was sent meat in post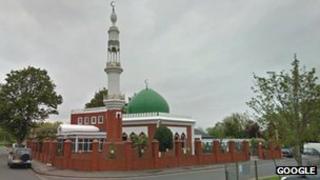 A mosque in Berkshire has been targeted three times in recent weeks with graffiti daubed on the wall and a piece of meat received in the post.
A pane of glass was smashed at the Holmanleaze site in Maidenhead overnight on 22 May, while racist graffiti was found early on Saturday.
A piece of meat, thought to be bacon, was received by the mosque on Monday.
Police are investigating whether the incidents were prompted by the killing of soldier Lee Rigby in London.
Insp John McKee, from the Thames Valley force, said: "The Holmanleaze mosque is highly respected locally.
"We've received much support over the years from them for various community events and issues.
"I find it deeply saddening that such genuinely nice people could be abused in this way."