New £2.5m boathouse for Marlow Rowing Club a step closer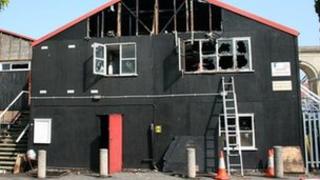 A new £2.5m boathouse at a fire-hit rowing club where Sir Steve Redgrave started his career is a step closer to being built.
Five firms are set to bid to build the boathouse at Marlow Rowing Club on the Berkshire side of the River Thames.
Works are to start in August, two years after the club was damaged in a blaze.
The club has received a £1m National Lottery grant and has raised £1.35m. A number of events are planned to raise the final £150,000 for the boathouse.
Chris Lenton, fundraising committee member for the rowing club, said: "I'm extremely excited. It's been a lot of work but we've had a lot of support for what we're trying to do.
"We will have a much bigger facility arranged over three floors which will have five boat bays.
"There will be a huge gym area which can double up as a function area and all of the social facilities will be on the second floor."
Sixty boats and treasured memorabilia were lost in the blaze in August 2011. It is hoped the new centre will open in 2014.