Uni drop-out entrepreneur among Berkshire honours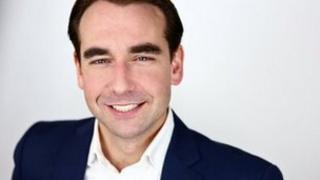 A man who dropped out of two university courses but went on to become a successful entrepreneur is among those in Berkshire to be recognised in the Queen's Birthday Honours list.
Oli Barrett, 35, who lives in Cookham, has been made an MBE.
He founded the Tenner scheme which sees children try to make a profit from £10.
Elsewhere in Berkshire, a head teacher has been made a dame while Janet Shurmer is recognised for services to the Girl Guides.
Mr Barrett, who went to school in Reading before unsuccessful spells at Edinburgh and Leeds universities, told BBC News: "I came home a few weeks ago and found an envelope sealed with sellotape which aroused my excitement.
"It's come as a complete surprise."
He said his £10 challenge, currently run by education charity Young Enterprise, has been taken on by more than 100,000 school children, with the money returned if a profit is made.
Susan Bourne, head teacher of The Avenue School in Reading, is made a dame for services to education.
David Jones, from Slough, is made an MBE for services to law and order for his work in the anti-kidnap and extortion unit of the Serious and Organised Crime Agency.
Janet Shurmer is appointed MBE and a number of people were also recognised with special honours for services to the Queen.
Gamekeeper Ian Watmore and Mark Welford, team leader of the landscape unit, are awarded the Royal Victorian Medal for their work at the Queen's Windsor estate.