Knights attend Order of the Garter service in Windsor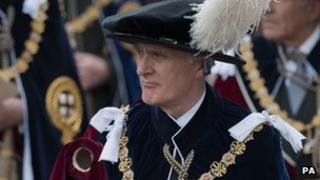 The Queen has been joined by members of the Royal Family for the annual Order of the Garter service.
Hundreds of people gathered at Windsor Castle to see the Garter Knights process through the grounds to St George's Chapel.
The Prince of Wales, Duchess of Cornwall and the Duke of Cambridge are among those who attended the event.
Former head of the UK's armed forces Air Chief Marshal Lord Stirrup was installed as a Knight Companion.
Lord Stirrup was invested by the Queen in the Garter throne room, before the service.
The Duke of Edinburgh was absent from the ceremony as he is convalescing at the castle having left the London Clinic earlier following exploratory abdominal surgery more than a week ago.
The Queen, who would normally walk with Philip, was flanked by the Prince of Wales and Duke of Cambridge.
The monarch appoints the Knights of the Garter, which is strictly limited to 24 knights, without consulting ministers.
They are announced on St George's Day, 23 April.
She chooses them for their contribution to public life and they include former prime minister Sir John Major and Admiral Lord Boyce, a former head of the UK's Armed Forces.
The service takes place every June on the Monday of Royal Ascot week, known as Garter Day.
The knights wear blue velvet robes and black velvet hats with white plumes for the event.
The Order of the Garter was founded by Edward III in 1348 and is the oldest British Order of Chivalry.
The deaths of Baroness Thatcher and Viscount Ridley left two vacancies in the order this year.