River Thames oil spill in Windsor affects 150 swans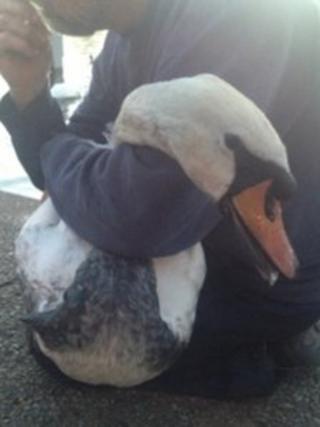 About 150 swans have been rescued from the scene of an oil spill at the River Thames in Windsor.
Thames Water was called out at 22:30 BST on Friday to the site of the spill between Windsor bridge and Eton bridge.
Wendy Hermon, of the charity Swan Lifeline, said it was "one of the worst oil spills" she had seen and that some swans were covered up to their necks.
The Environment Agency (EA) said the oil spillage has now stopped. The swan rescue is ongoing.
'Wash every one'
Ms Hermon said: "It's a total disaster. We've got teams up there at the moment and we're just having boat-loads brought in every 15 minutes.
"We have got to wash every single one of them. We are going to be busy for the next couple of days."
She described the river as "jet black", and said she could "see the swans swimming through the oil that was up to their necks".
An Environment Agency spokeswoman said reports were received on Friday night from members of the public about an oil spill near Eton Bridge.
'High dilution'
She said the "oil coming into the River Thames has stopped, with no oil coming from any of the surface outfalls or other potential sources".
She added that the "high dilution of the River Thames has minimised the impact of the pollution".
A Thames Water spokeswoman said: "Our crews have been out since 10.30 last night, but it is still not clear how this has happened."
In February last year, in an oil spill in the same area of the river, 68 swans were rescued.
Ms Hermon said: "The problem the other year was very minor compared to this. This is one of the worst oil spills I've seen."
The swans are being cleaned in communal tubs with washing up liquid.
They will also be fed charcoal powder to neutralise any oil chemicals they may have ingested, the charity said.
There are about 200 swans in the Windsor area and about 400 on the River Thames in Berkshire, the charity added.
The EA will carry out riverside checks and "continue to monitor the situation".