'Flytipping' behind Windsor River Thames oil spill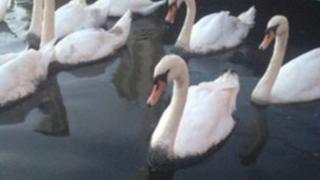 The Environment Agency suspects illegal flytipping was behind an oil spill on the River Thames near Windsor.
About 150 swans were rescued from the spill between Windsor Bridge and Eton Bridge on Friday night.
The birds are being cared for by charity Swan Lifeline which described the spill as "one of the worst it's ever seen".
Thames Water crews were called out to investigate the spill at 22:30 BST on Friday.
Doug Hill, from the Environment Agency, said he thought a large amount of oil was dumped into surface water drains before making its way into the river.
He said: "We've been working over the weekend to try and locate the source of this pollution.
"It's proving difficult to pin-point the exact location where it was dumped, so those investigations will continue.
"We suspect it is engine oil from the smell and look of it as well as what's been cleaned off the swans who were rescued."
The Environment Agency confirmed no other reports of wildlife being affected by the pollution had been received.
About 110 affected swans have been cleaned with washing up liquid at Swan Lifeline's Eton rescue centre.