Swans rescued from Thames oil spill released into river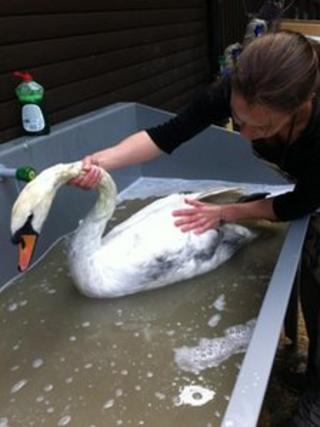 More than 100 swans have been released into the River Thames after recovering from an oil spill.
Volunteers flocked to the river between Windsor and Eton bridges to catch and clean 120 oil-covered birds with washing up liquid over the weekend.
The swans were housed at the Windsor Swan Lifeline centre to allow their feathers to recover before being put back into the river.
Swan Lifeline's Wendy Hermon said up to 30 helped catch and wash the birds.
The exact cause of the oil spill is still being investigated, however the Environment Agency said it could have been caused by illegal fly-tipping of oil into surface water drains.