Parents of littering teen attack man in Winnersh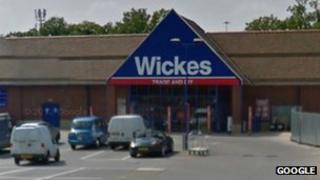 A man was punched in the head and had his car damaged by the parents of a teenager he had told off for littering.
The 46-year-old man argued with the boy outside the Wickes store in Reading Road, Winnersh, Berkshire, before being approached by his parents.
The father punched him in the head twice and the mother smashed in the passenger door of his car.
PC James Blowers, from Loddon Valley police station, called it an "unprovoked attack in broad daylight".
It took place outside the main entrance of the DIY store at about 15:40 BST on Saturday.
The woman is described as white, aged 38 or 39, with long blonde hair tied into a pony tail, and wearing a light pink top.
The man was white, about 5ft 7ins and of a "very muscular build with a shaved or bald head".
Thames Valley Police said the family were seen in a "new-looking" gold or beige pick-up truck.
PC Blowers said: "There were a number of people in the car park and shop at the time so I am appealing for any witnesses who can provide further descriptions or more details about the vehicle involved."