Wokingham Railway Station £6m upgrade delayed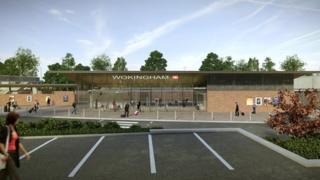 Business leaders are calling for a clearer explanation over delays in upgrading a Berkshire railway station.
Wokingham railway station is undergoing a £6m-rebuild, which includes retail units and a new transport interchange.
The project was due to be completed in August, but Network Rail said "unforeseen challenges" with ground works have delayed it until September.
Wokingham Chamber of Commerce wants reassurances over when parking and drop-off facilities will fully reopen.
Deputy president Robin Ashton said: "People can accept delays, what they can't accept is not knowing why it is happening.
"The station improvements have been long overdue and Wokingham residents applaud that they have started.
"We'd like an idea when disruption to getting around the station will end. Waiting another month for the new platform facilities is a less of a concern."
A Network Rail spokesman said: "The station building, footbridge and lifts are due to open in September, with the new waiting rooms opening in November.
"We apologise for this delay and will continue to do all we can to minimise it.
"Once complete, Wokingham will have a much improved station which will better serve the needs of passengers for many years to come."