Wexham Park Hospital receives formal warning over patient care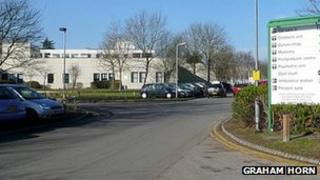 A hospital which is said to be letting down its patients has been warned by a regulator to make urgent improvements.
The Care Quality Commission (CQC) issued the formal warning after inspecting Wexham Park Hospital in Slough in May.
Adrian Hughes, regional director of the regulator, said: "Local people deserve much better from their hospital."
Heatherwood and Wexham Park Hospitals NHS Foundation Trust said it was confident it could resolve the issues.
Chief executive Philippa Slinger said: "We apologise to those patients who had a negative experience of our care and we are determined to improve."
'Completely unacceptable'
The CQC investigation included the A&E department, the stroke unit, the paediatrics unit and several wards.
Its report cited instances of patients being lined up in trolleys in the reception area because of a lack of space, and others with access to drugs that should have been locked up.
Staff were struggling with the volume of patients, and there were poor standards of cleanliness, it also said.
Mr Hughes added: "Basic things, such as making sure people's dignity was respected, did not get the attention they deserved.
"This impacts on the patients and therefore is completely unacceptable, and needs to be tackled immediately.
"Patients are entitled to be treated in services which are safe, effective, caring, well-run, and responsive to their needs."
He said although the hospital was under "considerable pressure" it was not an excuse for the "systemic catalogue of failings".
Ms Slinger said the trust was investing £1m to make more space for patients, and would completely rebuild the A&E department.
"We have worked out a detailed plan of action to address all of their findings," she said.
"Some actions were easy to instigate immediately. Some will only be achieved in the medium and long-term. However, we are confident that we can address all the issues and resolve them."
'Management problem'
She said there had been a huge amount of pressure on A&E departments through the winter period.
Bracknell Forest borough councillor Tony Virgo said: "In the report... it seems A&E can't cope, there aren't enough beds, there seems to be a problem locking up drugs, there wasn't enough qualified staff at times.
"It just seems that there's a management problem and there's a quality control problem."
Mr Virgo said the closure of High Wycombe's A&E department had put extra pressure on Slough.
Slough MP Fiona McTaggart said many of her constituents had expressed "anxiety" to her about Wexham's accident and emergency unit.
"It seems to me reading the CQC report it's the pressure on accident and emergency which has been the source of these worrying things, the dignity and privacy of patients aren't being carefully protected and in the rush corners are being cut in terms of patient care," she said.
"We've got to focus on how to make this safe for people who need to use Wexham."
She said Slough patient groups and GPs had expressed confidence in the management of the hospital.