Reading station train maintenance depot opens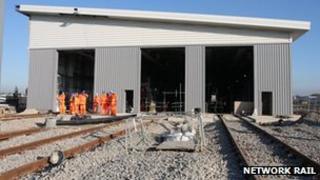 A new train maintenance depot is being opened as part of the £895m revamp of Reading station in Berkshire.
The old depot is being demolished to make way for a rail flyover to carry slower Southampton freight trains over the Great Western Main Line.
The £150m facility has been designed to take electric trains, although they have not yet been built.
Secretary of State for Transport Patrick McLoughlin will perform the opening.
The first Japanese-built Intercity Express Programme (IEP) trains, set to replace the fleet on the Great Western Main Line, are due to arrive in 2017.
Work starts to electrify the railway between Swansea and London next year and the new trains are expected to be in use by 2018.
The Reading station rebuild, which also includes new signalling and platforms, is set to finish in 2015.