Cyclist Anthony Hilson death: Victoria McClure guilty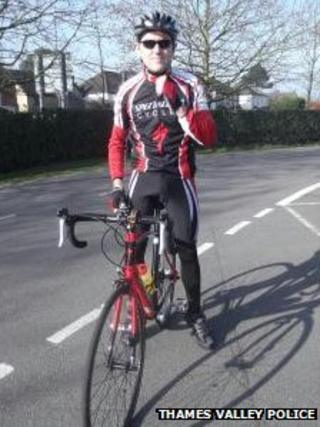 A woman has been convicted of causing a cyclist's death on a road in Berkshire.
Cyclist Anthony Hilson, 46, was struck by a car driven by Victoria McClure, 38, on the A4 Bath Road at Twyford in September.
Prosecutors claimed McClure, of Chilton Drive, Charvil, may have been distracted by using a satellite navigation system.
A jury at Reading Crown Court unanimously found her guilty of causing death by dangerous driving.
Mr Hilson, who police described as an experienced cyclist, was a married man with two children.
Baljit Ubhey, chief crown prosecutor, said: "It may have been that her use of her satellite navigation system caused her to be distracted from driving.
"This was a very sad case, the consequences of which have had a terrible impact on many lives.
"No matter what the sentence is, we acknowledge that nothing can make up for the loss of Mr Hilson."
McClure is due to be sentenced on 30 August.