Paving stone to honour Reading WWI Victoria Cross hero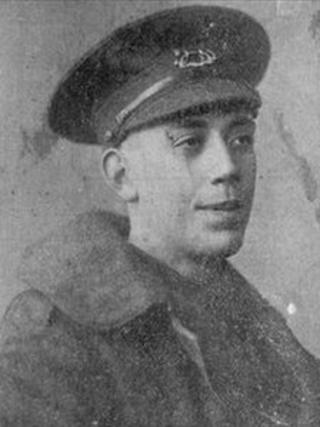 The only man from Reading to be awarded the Victoria Cross is to be honoured with a commemorative paving stone.
Fred Potts was awarded the medal in August 1915 for his bravery when he dragged injured comrade Arthur Andrews to safety on a shovel in Gallipoli.
Now a specially-commissioned stone is to be laid in Reading in his honour as part of events to mark the centenary of World War I in 2014.
Stones are to be laid in the home town of every Victoria Cross recipient.
'Wonderful act'
A total of 28 specially-commissioned stones will be unveiled next year to commemorate medals awarded in 1914 and others will be laid in every year up to 2018.
Military historian John Cooksey described Trooper Potts' actions as a "truly wonderful act of self sacrifice."
He added: "Fred was wounded on the hill, he came across - crawled across - another chap called Trooper Andrews.
"He wouldn't leave Andrews, who was also badly wounded, and over the period of 48 hours Potts put Andrews on the blade of a shovel and literally dragged him for two days, 600 yards down to the British lines."
Trooper Potts was a part-time soldier in the Berkshire Yeomanry when he was shipped to the Gallipoli peninsula where he first saw action.
He survived World War I and returned to Reading to become a master tailor. He died in 1943.
The Trooper Potts Memorial Trust was set up after his bravery was highlighted in a BBC Radio Berkshire documentary.