New Winnersh school receives just three applications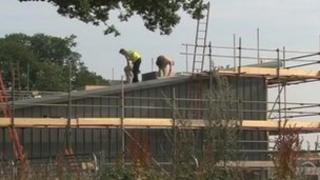 A newly built academy primary school will lie empty this academic year after only three parents applied for a place.
Wheatfield Primary, in Winnersh Farm, Berkshire, will have its opening postponed until September 2014.
Wokingham Borough Council says the Department for Education (DfE) took too long to give a "firm assurance" about which provider would run the school.
But the DfE blames the local authority for not putting forward its preferred sponsor early enough.
Two academies, Winnersh Farm and Windmill Primary in Woosehill, were to open in Wokingham Borough, in partnership with provider GLF schools.
'Over-subscribed'
Another new academy school will open in Charvil and will be run by The Piggott School, a secondary based nearby.
All three new schools will be opened as academies, which means they will be funded by central government and out of the control of the local authority.
In a statement the council said both GLF schools originally had a total of 70 expressions of interest from families, but the "significant delay" by the DfE in naming GLF as its preferred provider meant parents accepted offers at other schools.
Rachelle Shepherd-DuBey, a Liberal Democrat councillor in Winnersh, said: "Most Wokingham schools are over-subscribed at this point, but parents want certainty.
"They don't want the possibility that schools will not open."
A DfE spokesperson said: "The claim that the delay to the opening of Wheatfield is down to the department is simply not true.
"In fact, Wokingham Council only put forward their preferred sponsor in March, which did not allow enough time to establish the new school before September."
The three children who applied to go to Wheatfield will now be offered places at Windmill Primary, which is due to open on 9 September as planned.
Discussions will also take place to see if a temporary alternative use for the Wheatfield building can be found.