River Thames summer death numbers 'a concern', fire service claim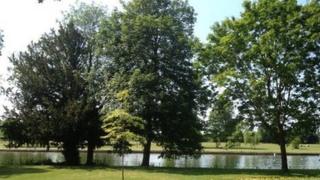 A "worryingly high" number of people have died in rivers in the warm summer weather, Berkshire fire and rescue service has said.
It says five have people died in the past month, including a 12-year-old boy who got into difficulty in the Jubilee River in Cippenham, Slough on 31 July.
On Wednesday, a man died in the River Thames at Caversham.
The fire service is warning people to think of the dangers of going into the water in the warm weather.
'Severe cramp'
Jeff James, station commander at the service's water rescue unit, based in Caversham, said people can underestimate the effects of cold water on the body.
"While it might be lovely and hot and warm outside and the surface water temperature is on one level, the deeper you go, the colder it gets.
"The cold can cause severe cramp and muscle spasms which can have dramatic effects on your swimming capability."
He added: "People need to bear in mind that you can't see what's underneath the surface.
"You hit the river bed and there's silt, mud and all sorts of debris which can trap you very quickly."
Police are treating the death of the man in Caversham on Wednesday as unexplained.
Last Thursday, a man died in the River Thames at Hampton in Surrey.
Two teenagers attempted to rescue him after seeing the man struggling in the water while swimming.
His body was later recovered by police.