Body sensors to measure Heathrow 'noise stress'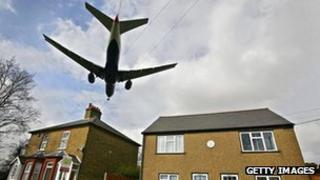 People living under the flight path of Heathrow Airport are being invited to wear body sensors to monitor stress caused by aircraft noise.
Parts of the Royal Borough of Windsor and Maidenhead are affected by the sound of planes taking off.
About 140 residents have already taken part in a study using a mobile phone app to record and chart plane noise.
The University College London (UCL) is extending the project to monitor the stress inflicted on people's bodies.
The WideNoise aircraft monitoring app allows residents to upload recorded sounds of aircraft noise and log their responses - ranging from feeling calm to hectic.
Since it was launched in April, it has recorded and mapped around 4,500 incidences of aircraft noise, a spokesman for Windsor and Maidenhead council said.
Volunteers sought
One third of the recordings uploaded so far have been above 80 decibels, said councillor Carwyn Cox, cabinet member for environmental services.
Many of the comments logged were from residents who complained that the aircraft noise "spoilt conversations, use of their gardens, picnics and, generally, their evenings", he added.
Mr Cox said: "This [body sensor project] is to follow on from the WideNoise initiative.
"This idea is to try to take that a little bit further and find out what their body is experiencing with aircraft noise.
"Hopefully there will be some volunteers who will come forward to take part in, what we think, will be a very useful idea to try and get a bit more information of the impact of aircraft on individuals."
Mr Cox said no volunteers had yet been recruited but he urged anyone interested to get in touch so that the trial could start in the next few weeks.
The data collected in the study will be used to produce a map to show where in the borough residents are most affected.