Call to save 'Oscar Wilde jail' in Reading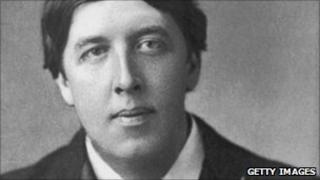 A plea has been made to save a Victorian prison which once held the Irish poet and writer Oscar Wilde.
HMP Reading, now a young offenders institution, will close by the end of the year as part of government plans.
The Oscar Wilde Society has called for the "iconic" building to be preserved, possibly as a tourist attraction.
Reading council said it plans to retain the building and will ensure any future development should enhance the setting of the nearby Abbey Ruins.
Wilde was sentenced to two years of hard labour in prison for gross indecency, after his affair with Alfred Douglas was exposed in 1895.
He was housed in cell number 3 on C3 landing in C block and after leaving prison he wrote The Ballad of Reading Gaol under the name C33.
The poem took as its theme the last days of Charles Thomas Wooldridge, who was hanged for murder while Wilde was at the prison.
'Not fit'
Michael Seeney, deputy chairman of the Oscar Wilde Society, said: "We've been six or seven times.
"We hope such an iconic building could be saved in a form which is better than it is at the moment.
"It's next to the abbey, so it is a tourist spot in Reading. I'm just sorry we won't be able to go there again."
Justice Secretary Chris Grayling said the closure was needed to bring down costs as part of modernisation.
The government plans to replace 1,400 prison places in England and Wales with a £250m new super prison in Wrexham, which will hold more than 2,000 inmates.
Reading East MP Rob Wilson has called on ministers to help save the 160 jobs at the jail which he admitted was "not fit for purpose" in its current form.
He said staff had done "a fantastic job under difficult circumstances", but the institution now lacked outdoor space for physical exercise and should not be used for young people.
The Prison Officers Association (POA) denied Reading was a "failing prison".
Pete McParlin of the POA said the closure would be "forcing 320 prisoners from Reading into an already overcrowded prison estate".