Woodley park set to get WWI memorial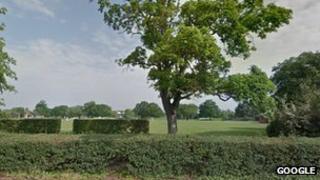 Campaigners are trying to raise £26,000 to install a war memorial in a Berkshire park next year.
It would be Woodley's first war memorial and would be built in time for the WWI centenary.
Campaigners have so far raised two-thirds of the money and have secured a plot on the Memorial Ground.
Campaigner Mike Hutchinson said it was important for Woodley to get its own focal point to remember those who lost their lives in conflict.
He said: "We have a ceremony in the town centre every year but there is no real focal point for people to congregate around and for scout groups and other organisations to parade by.
"Businesses don't have any spare cash, individuals don't have any spare cash and we recognise that people have other priorities as well.
"But people have been tremendously supportive. We're confident we can raise the last bit with some help."
Once the memorial has been installed it will be looked after by the town council.