King's Meadow Baths could become spa complex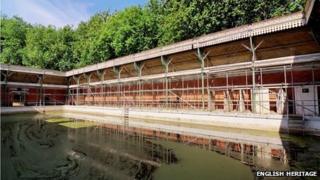 Five bids have been received to renovate a dilapidated Edwardian lido which has not been used since 1974.
The ideas put forward for the 111-year-old King's Meadow Baths include turning it into a spa complex, a temporary ice rink or filling in the pool.
Last year, English Heritage said the Grade II listed building in Reading as "at risk" and has called on as much of it as possible to be saved.
Reading council will decide which bid to pursue at a meeting on Monday.
More than £1.5m is needed to renovate the 1902 lido, but the council said it does not have the money to spend on it and has put a 250-year lease out to tender.
Entertainment venue
The authority rejected a plan in 2009 to build a hotel at the site and instead gave the King's Meadow Campaign a chance to save it.
But in two years the group could only raise £10,000, blaming the council for failing to support its bids for grants.
Despite this, the campaigners are one of the bidders this time round.
They are up against the team behind the £2m renovation of Clifton Lido in Bristol.
Its bid sees the pool, although reduced in size, restored for public use alongside a spa, cafe and restaurant.
Gills Estates, which owns and manages several listed buildings, want to provide a multi-purpose facility with a pool, arena, entertainment venue and temporary ice rink.
While two other bids, one to fill in the pool and build a function hall, and another to turn the site into a multi-cultural arts venue, will also be considered.
English Heritage said it prefers the spa proposal but admitted it would still "entail some harm".