Slough schools run by private firm Cambridge Education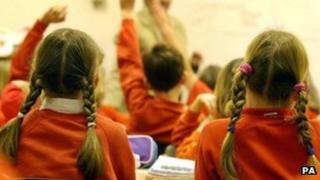 Schools in Slough are to be run by a private firm from Monday.
Slough Borough Council said Cambridge Education would take over its educational services after signing contracts on Friday.
The company's responsibilities will include admissions, transport, catering, attendance, school improvement and governor support.
The authority said 154 staff would be transferred to the new employer but their contracts would not change.
It said the transfer would offer "greater value for money for the borough's schools".
Cambridge Education, which offers training and improvement programmes to the education sector, has been providing similar services to the London Borough of Islington for 13 years.
'Changing world'
Cambridge Education's UK managing director Stephen Cavanagh said: "Every community is unique and we look forward to meeting the specific needs of young people in Slough, equipping them with the academic and life skills to succeed."
The borough's commissioner for education and children, Pavitar Mann, said: "The world of education is changing fast with academies, free schools, schools becoming increasingly independent and new funding arrangements with schools increasingly buying in services.
"In this context, working with our schools to bring in a provider to deliver our education services will mean we have greater capacity for improvement and broader access to a range of specialist expertise.
"We will continue to be a strong champion for educational standards in the borough and by taking on a more strategic, commissioning role, we will also be able to be flexible and respond to future changes in policy and funding."