Thunderbirds creator Gerry Anderson's son walks in father's memory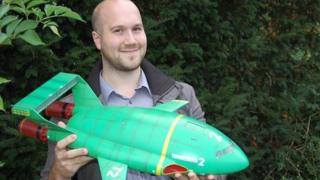 Thunderbirds creator Gerry Anderson's son has embarked on a charity walk in memory of his father, who died last year after suffering dementia.
Jamie Anderson joined hundreds of other walkers in Windsor to help raise awareness of Alzheimer's disease.
His father launched the inaugural walk in Berkshire last year before he died aged 83, in December.
Mr Anderson said if he had known more about dementia, his father would probably "still be around now".
His father, who lived in Henley-on-Thames, was a supporter of the Alzheimer's Society and revealed he suffered from the disease at the launch of the charity's first Berkshire memory walk in 2012.
Jamie Anderson said he was continuing "the good work" of his father to raise awareness of dementia.
"If I had known more about Alzheimer's and been more aware of it, we probably could have got dad diagnosed earlier, and started drug treatment earlier, and he probably would still be around now," he said.
The Memory Walk is the Alzheimer's Society's annual fundraising event, and takes place across the UK throughout the autumn.