Reading Gurkhas on hunger strike over pensions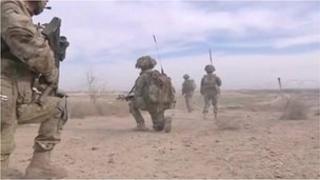 Gurkhas angered by what they say is the government's refusal to give them equal pension rights have gone on hunger strike.
About 60 Gurkhas from Reading say they will starve themselves to death unless there is a change to their pensions.
The MoD said the Gurkhas' conditions of service had "always been fair".
Two Gurkhas started a hunger strike earlier, another two will take over after 24 hours, building to a mass hunger strike on 7 November.
In April, Gurkha veterans from across the south went to Westminster to plea for equal pension rights in line with the rest of the military.
'Prepared to die'
About 25,000 Gurkhas who retired before 1997 get about a third of the pension received by their British former comrades.
Gurkha veteran Gyanraj Rai said: "I was already prepared to die for Britain and I have been campaigning for the last 15 years at my own expense.
"We don't have any more money to do a campaign - now the only thing left is my body."
In a statement, the Ministry of Defence said: "Gurkha terms and conditions of service have always been fair.
"They have reflected the environment that the Gurkhas were in, and they have changed and improved over time to reflect the Gurkhas' changing circumstances."
There are 10,000 Gurkha veterans living in the UK, many of them in Reading and Aldershot.
In 2009, the government allowed former Gurkha soldiers who had retired before 1997 to settle in the UK following a high-profile campaign led by actress Joanna Lumley.