Ricky Gervais 'sad' at Wernham Hogg demise in Slough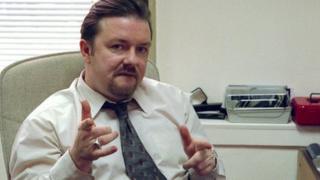 Ricky Gervais has lamented the demise of the building that featured in the opening credits of his hit TV show The Office.
Builders have moved into demolish Crossbow House in Slough, depicted in the comedy as the home of Wernham Hogg Paper Company.
The star, who played the middle manager David Brent, said on Twitter it was "sad news".
The Office became a worldwide hit and launched Gervais's career.
A spokeswoman for Segro, which owns Crossbow House, said the offices were currently cordoned off while construction workers stripped down the building.
She said several fans of the show had made pilgrimages to the site, including a journalist from the US.
Slough's bus station, which also featured in the show's opening credits, was replaced in 2011.
In July, Gervais dedicated a song to Slough in the guise of Brent, in which he paid homage to the Berkshire town.
The song, which includes the lyric "And you know just where you'll be heading, it's equidistant 'tween London and Reading," has been described by Gervais as Brent's love letter to the town.