Cinema installed at Prospect Park Hospital dementia wards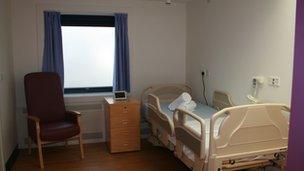 A cinema and colour-coded corridors have been unveiled at two hospital dementia wards following a £1m refurbishment.
The new facilities at Reading's Prospect Park Hospital include en-suite rooms and a home cinema system showing old films.
The corridors have been colour-coded to help patients recognise where they are.
Staff and patients are moving to the wards from St Mark's Hospital in Maidenhead.
The move means all the county's mental health wards will now be located at the hospital.
David Townsend, chief operations officer at Berkshire Healthcare, called them the "very best facilities".
It has single rooms as opposed to the dormitories at the Maidenhead site and offers overnight accommodation to visiting families.
Mr Townsend added: "This transformation of mental health services means that anyone who needs our support should receive the right treatment in the right way and in the best place, whether they need to stay in hospital or if they continue to live in their community.
"Those with dementia who will be located on Rowan Ward will benefit from a newly-created sensory environment with colour schemes and music to create different atmospheres; this will help to promote independence.
"We are also redesigning our gardens so we can use nature to assist in healing of our patients, by creating an environment to reduce agitation, give access to fresh air and promote relaxation."
Berkshire Healthcare was awarded £996,961 by the Department of Health in July to make the changes to Rowan and Oakwood wards.
Related Internet Links
The BBC is not responsible for the content of external sites.