Extra train carriages between Windsor and Waterloo welcomed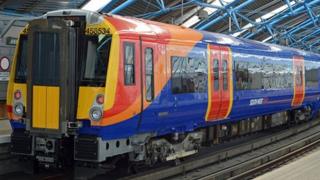 Rail passenger groups have welcomed extra carriages on a busy train route between Windsor and Waterloo.
South West Trains said two extra coaches on each of its 14 daily services would add 460 extra spaces for standing and seated commuters.
The number of passengers using stations on the branch has doubled in the last 15 years, Office for Rail Regulation (ORR) estimates show.
A further 98 carriages on the line will be added over the next 12 months.
'No over-crowding figures'
Rail Minister Stephen Hammond said the "much-needed" carriages would allow "more people to travel on these vital commuter routes".
South West Trains said increasing the service from eight to ten carriages would increase the capacity from 930 passengers to 1,390.
Railfuture spokesman Hugh Jaeger "welcomed" the news.
He added: "Whether the capacity increase keeps pace with the demand is another matter."
Passenger Focus chief executive David Sidebottom said it was "good news" for passengers and "should make their journey better".
A Passenger Focus survey showed "less than two thirds of passengers" were currently satisfied "with having enough room to sit and stand" on the route.
In total, 108 extra carriages will be introduced across South West Trains' network as part of a £65m investment from the South West Trains-Network Rail Alliance, in partnership with the Department for Transport.