Wokingham's £6m train station revamp opened by transport minister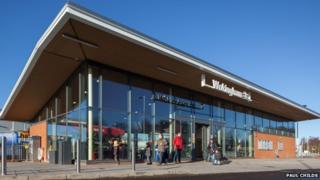 A £6m revamp of a train station in Berkshire has been officially unveiled by transport minister Baroness Kramer.
The Wokingham terminal, which has remained open during the refurbishment, features a new glazed station building with a larger waiting area.
It is the 400th station to benefit from the government-funded National Stations Improvement Programme (NSIP).
South West Trains managing director Tim Shoveller said the station was "now fit for the 21st Century".
The station features a larger booking hall, modern information screens and a cafe, as well as better access for cars, taxis and buses.
Liberal Democrat peer Baroness Kramer said Wokingham was "a great example" of the success of the £220m worth of improvements to 400 stations in England and Wales.
The official opening was due in November but was postponed because of storms that disrupted the rail route.
Improvements to the station link road will start in the autumn.