Windsor to host Irish president's historic visit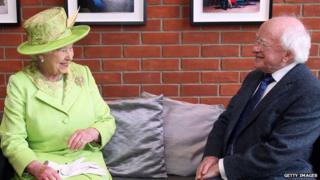 The president of Ireland will begin his historic state visit in Windsor, it has been announced.
Michael D Higgins will be the first Irish head of state to visit the United Kingdom in an official capacity.
The Queen and Prince Philip will welcome Mr Higgins and his wife Sabina on Tuesday, 8 April, followed by a carriage procession to Windsor Castle.
Mayor Andrew Jenner said he expected "a party atmosphere" because of the amount of Irish people living in the town.
The state visit follows the Queen and Prince Philip's own historic visit to the Republic of Ireland in 2011.
Mr Higgins and his wife will be greeted at a specially-built pavilion in Datchet Road in what will be the 12th state visit in Windsor since 1998.
Information booklets will be sent to residents and businesses with details of arrangements in place for the day and also for the rehearsal on Thursday 3 April.
People should expect "unavoidable disruption" on both days, the Royal Borough Of Windsor and Maidenhead said.
Information including a procession map will be available on the council's website.