Royal Family unveils Windsor horse statue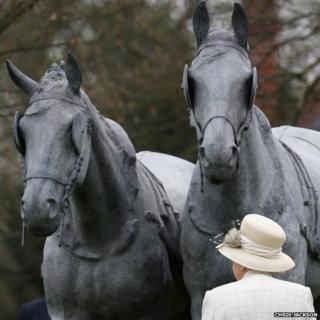 The Queen, Prince Philip and Prince William have unveiled a life-sized horse sculpture in Windsor.
The statue is of two Windsor Greys, Daniel and Storm, who draw the royal carriages on state occasions.
The £200,000 cost of the statue has been raised by Windsor residents to celebrate the Queen's Diamond Jubilee.
Windsor Greys Jubilee Appeal trustee Sally Merrick said it was "a very exciting day indeed" and that the Queen knows the horses "intimately".
Money for the statue was raised through charity events including one at Windsor Racecourse.
Sculptor Robert Rattray said: "These magnificent beasts are often seen around Windsor on state occasions or while exercising, so their sculptural homage will be installed close to the stables."